When Jeremy's dreams of a military career were cut short the Army veteran was in desperate need a companion. He found one in a once-stray dog who needed hope and a home as much as Jeremy needed a friend.
"The greatest time of my life"
In 2009, Jeremy joined the Army with "every intention to make it a career." Just 22 at the time, it had been a lifelong dream to serve his country and he believed that military service would be "the best thing" for him. The Army did not disappoint.
"I have been all over the world and been to many different locations," he says, adding, "Greatest time of my life."
For four-and-a-half years Jeremy served with total gusto. He loved being in the Army so much that he struggles to find a singular event more memorable than all the others.
"It was the greatest period of my life," he says. "and no matter what, I let my ego get in the way and tell everyone about my service."
Yet life did not work out as planned for the young Army soldier. Despite his love of country, ambition and desire to serve,  in 2014 Jeremy was given a medical separation from service.
"I got my stripes in three years and knew at that point I am fully committed," Jeremy recalls, "until I was ordered a medical discharge."
Coming home
Even when a military separation is voluntary many veterans struggle to adapt to civilian life.
Veterans re-enter a world which lacks the structure, camaraderie and mission focus they grew accustomed to through service, and can have difficulty translating the skills they learned in the military to the demands of a civilian job. Relationships are often strained as friends and family are faced with a person they believe is different than the one they knew, while veterans can struggle to reconnect with those they love most.
Jeremy faced this and more. He had to cope with the added challenge of having his dream cut short and soon thereafter another emotional blow: his marriage ended.
Choosing pet adoption
With his career and family life torn apart, Jeremy soldiers on. The Army veteran currently leads production services for a major bank and describes his role there with trademark humor.
"I monitor the global networks and like Vanilla Ice says, 'If there's a problem, yo, I solve it.'"
Although he has a fulfilling job, Jeremy was coming home every night to an empty house. He was stressed from the circumstances of his medical separation as well as from the dissolution of his marriage. Thankfully the Army soldier chose a positive way to address his troubles.
"I chose to adopt a pet," he sys, "because I needed that companionship, something that can calm me when I need it."
Army veteran soldiers on with stray dog by his side
Jeremy learned about Pets for Patriots when he visited his local shelter, Richmond SPCA, which is both a participating adoption and veterinary partner. The SPCA offers a deeply discounted adoption fee of just $50, a 'welcome home' kit with pet supplies, and access to their full-service veterinary Clinic for Compassionate Care without proof of income qualification. All of this is in addition to benefits we offer veterans adopting program-eligible pets, which includes a generous contribution towards pet food and other essentials.
Before applying to our national companion pet adoption program for veterans Jeremy did some research and determined that adopting through our partnership with Richmond SPCA "seemed like a great choice."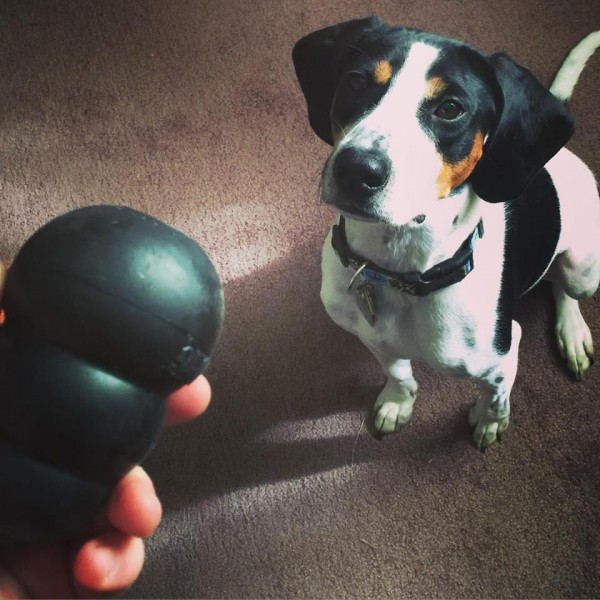 During his search for a four-legged friend, the ex-soldier was smitten by one particular dog in the shelter's care.
Gannon was an 18-month old Fox Hound mix, found as a stray. Despite having lived on the streets the dog's playful disposition attracted Jeremy, and seemed to be the perfect antidote to what he was experiencing in his life.
Jeremy adopted Gannon and they formed an instant, indelible bond.
"My family consists of me and the dog now," he says.
"The perfect companion"
It did not take long for Gannon's previous life – no home, no love, no rules – to be apparent.
"Now Gannon, by the way he acts, was a stray," says Jeremy. "No training at all, so it is square one with an older dog, which makes it even harder."
Despite the fact that the big hound didn't "know how to be a house dog yet," Jeremy nonetheless believed that Gannon was a "very, very good dog." And it was obvious to the Army veteran that his new charge wants to please him.
"His drive to become the perfect companion is there," he observes.
Although completely untrained, Gannon had an immediate and transformative impact on Jeremy.
"Gannon is a great dog," he shares. "Not only has he lowered my anxiety, he has also made me smile for the first time in a while."
Jeremy knew that it was critical to teach Gannon how to be a well-mannered member of the family and shed his life as a stray. He dedicated himself to training Gannon, but in time realized that he needed the help of a professional.
Some studies have found that as many as 30 percent of dog owners surrender their pets because of behavioral issues. Because part of our mission is surrender prevention, we worked with the Richmond SPCA to share the costs of a training program offered through the shelter. This opportunity gave Jeremy the "helping paw" he needed to take Gannon's manners to the next level.
With love all things are possible
At Pets for Patriots we like to say that love is the real service we provide. With that love, it is possible for a street dog to find his way as a well-behaved family pet and companion, and for a medically discharged soldier to rebuilt his confidence and hope.
As it happens, the soldier and the stray are alike in many ways.
Jeremy and Gannon both experienced abandonment. Each is a work in progress, striving to move beyond previous disappointments. And both need what the other offers: a loving friend who is always loyal and never judges.
"I am so happy we found out about this program," Jeremy says, "as it has done a great deal for my family."
The Army veteran admits that training his new four-legged charge is an ongoing responsibility, and something they work on together every day. Committing to Gannon's transformation from street dog to family pet is having a positive impact on Jeremy as well – giving him the emotional space he needs to focus on someone other than himself and his recent travails.
"Gannon has changed my life. I have a different perspective on things now," he says. "He is a nut ball and we still have work to do, but he's always there for me no matter what."