Krystin has always been an animal lover. So it was no surprise when the National Guardsman and her husband came to the rescue of a skittish pocket Pittie surrendered to their local shelter.
The path to serve
After graduating from college with a degree in biology Krystin had to figure out what to do with her life. She was ambitious, and intrigued by the possibility of enlisting in the military.
"At that point I was kind of at a crossroads, I didn't really know what I wanted to do next," she says. "I wanted something to work towards or achieve."
Krystin's family has a military history. Her grandfather was drafted during World War II and her brother served in the Marines.
"He always wanted to be a Marine, that was pretty much in the cards," she shares of her brother.
Krystin was recruited by the Navy, but she turned them down because they do not have large Reserve component. She wanted to have the greatest flexibility to both serve our nation and create a life for herself outside of the armed forces.
On September 11, 2009, Krystin joined the Army. Until the moment she signed her enlistment papers she had not paid attention to the significance of that historic date.
Keeping us safe
Krystin started her military career as a commissioned officer candidate, but during her initial training phase she realized that being an officer was not for her.
"I didn't want that at age 22," she says, "so I went the enlisted route."
The young soldier's college training in biology served her well in her Military Occupational Specialty, or MOS. Krystin is a 74D, a chemical, biological, radiological and nuclear (CBRN) specialist. In this role she is responsible for maintaining some of the most sensitive and destructive military weaponry, as well as decontamination and disaster response.
It is an awesome and sober responsibility.
"I didn't want to be stuck in an office," Krystin says. "I mostly train other soldiers on how to react on any of those kinds of attacks."
The pitiful pocket Pittie
In October 2019 Krystin married; her husband Gabe shares her love of animals. Although their house was already home to two adopted cats and two snakes, the National Guard soldier wanted a four-legged companion and workout partner.
"I tried to run with the dog we had growing up, a Spanial-Papillon, and she would only last a quarter-mile," Krystin laughs.
The couple started their search at their local humane society and Pets for Patriots partner, the Humane Society of Huron Valley. We have been privileged to have the shelter and their full-service veterinary clinic in our program since 2011.
Veterans receive a 50 percent discount for adopting program eligible dogs and cats, and 10 percent off pet medical care.
"I would go almost daily on the shelter's website," Krystin says. "We had to have one that could deal with cats."
As often happens, one of the dogs that Krystin and Gabe were considering got adopted. So they made a trip to the shelter and were struck by the sight of a dog named Cozy. The gray and white "pocket Pittie" – as small Pit Bull type dogs are often called – was trembling with fear.
Not much was known about Cozy's past other than that her previous guardians gave her up.
"People that surrendered her filled out a form, said she never had puppies," Krystin shares, "but it appears she has."
Sadly, many bully breed dogs suffer from misperceptions that they are inherently vicious. And all too often this gives cowards and criminals the license to mistreat them because they believe that no one sees value in their lives.
The Army Guardsman does not share those views.
"I don't like the reputation that they get," she says.
Cozy's sad, cowering image looked nothing like the stereotype of the menacing Pit Bull that many people think about. Krystin and Gabe were so touched that the couple decided to see if the pocket Pittie would fit in with the other animals in their family.
"Our shelter does pajama parties to take the dog home for three days to see if everything works out," Krystin says.
Short-term foster-to-adopt programs are very popular with both animal shelters and prospective adopters. It gives people the chance to see how a new pet might fit into their households, and animals' personalities tend to emerge outside of the shelter environment.
So that weekend the pair took a chance and brought the pocket Pittie home; Cozy's sleepover was a success. On November 10th – the day before Veterans Day – Krystin adopted Cozy and promptly renamed her Athena.
"That Sunday we made the decision whether we wanted to keep her," says Krystin, and made it official the very next day.
High anxiety
For the first week in her new home Athena barely ate. But she otherwise warmed up to her new guardians pretty quickly. One of her favorite spots is right between Krystin and Gabe.
"She's a cuddler," Krystin says. "She always has to be between us."
In fact, the pair have indulged their pocket Pittie's desires to cuddle and now Athena craves near constant physical contact when duty calls Krystin away. The Army veteran takes it in stride.
"Now she kind of has to be touching somebody," Krystin says, referring to when she is gone for training.
Still, a dog must be able to separate from her humans and not be stressed when they have to leave the house. While many people think it is endearing to have a "Velcro dog" who follows them everywhere, it is often a sign of an unhealthy bond.
Such was the case with Athena.
It is only natural for Krystin and her husband to want to comfort their pocket Pittie to calm her nerves.
Finding the balance between togetherness and independence can be difficult. The pair started dog training classes through a local pet store to help Athena gain her confidence.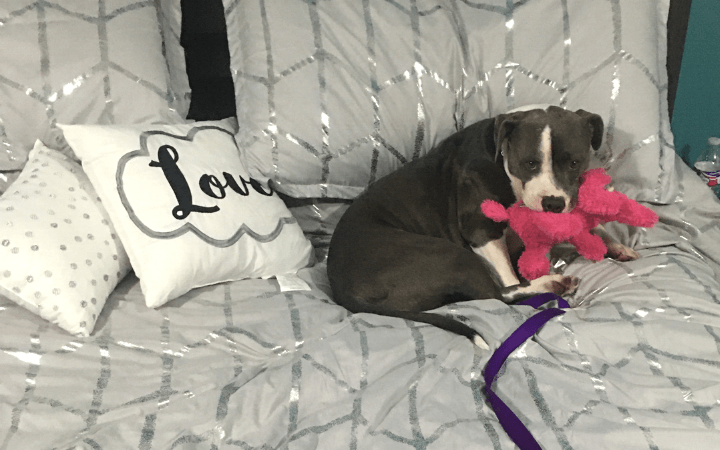 Although Athena is no longer cowering and nervous the way she was in the shelter, she does show signs of separation anxiety. The family's cats have made her nervous as well, but with time and training she is showing improvement.
"She's definitely changed from shelter to bringing her home," says Krystin. "Like any dog, she could be aggressive, but she's sweet and nervous."
In fact, Athena carries around a pink elephant toy, which her Army mom finds quite disarming.
"She's the least scary thing," Krystin says of her newest charge. "It's really cute because Pit Bulls get such a bad name."
A life transformed
Local adventures in the community are helping Athena, too. She is getting accustomed to meeting new people – an activity that used to fill her with fear.
"It's nice when we go out and people want to pet her and think she's cute," Krystin shares. "It helps Athena get more comfortable with people."
Playing a part in Athena's transformation has been a rewarding experience for the Army Guardsman. They continue to work on her reactivity to some dogs, which Krystin believes is fear based. She confesses that it can be hard sometimes not to know about her pocket Pittie's prior life, but accepts her just the same.
Some of Krystin's most cherished experiences with her new pup are the ones where Athena is most unguarded, and feels safe. It is during those times that she sees glimpses of the dog that Athena will become.
"When we are at home and she's relaxed," she shares. "It's moments like that I think are my favorite."